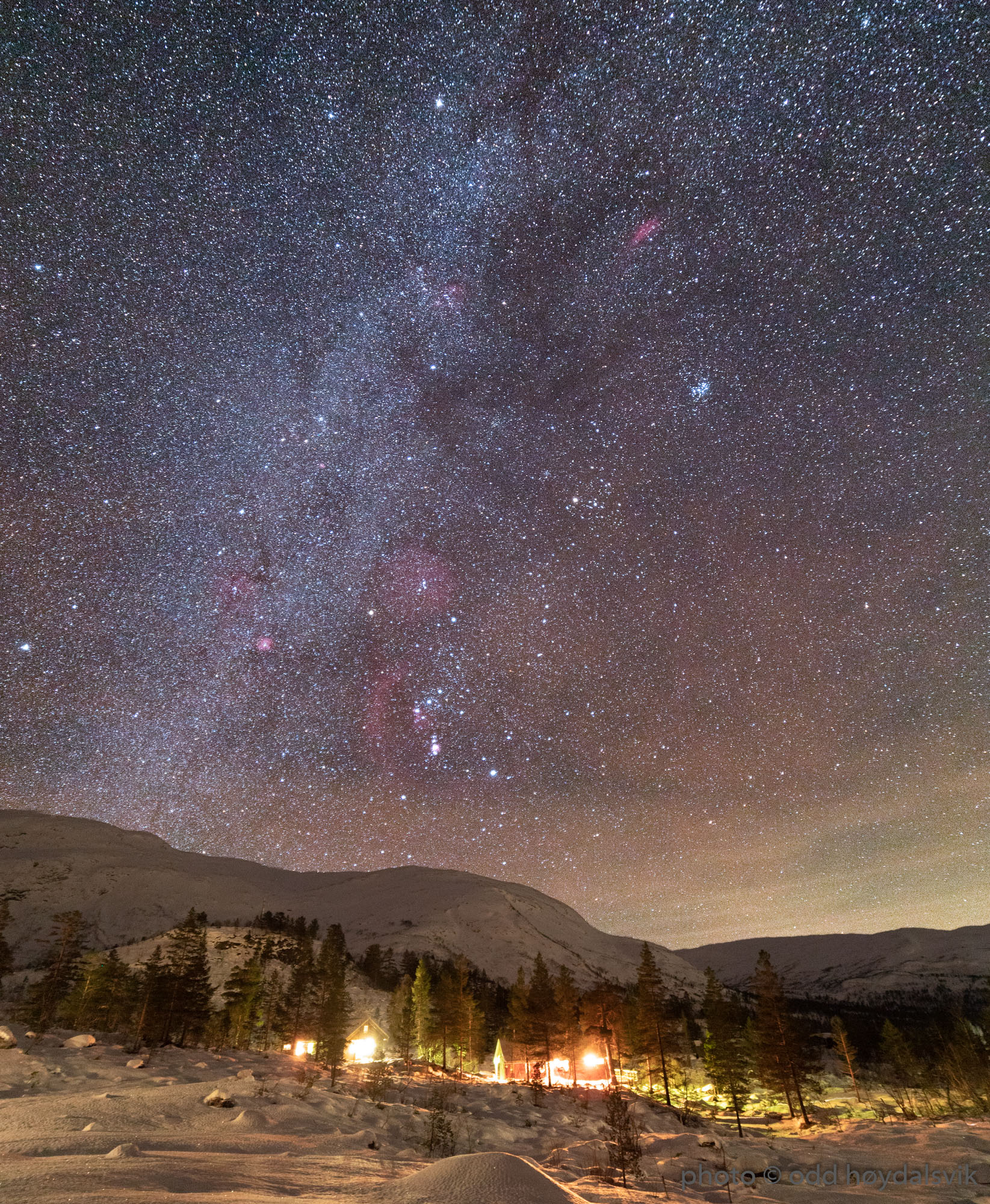 Winter Milkyway over Mjølfjell.


The picture is taken from Ljosanbotn in Voss, Norway 26.12.2019, 23:05 UT+1
Camera: Canon EOS RPa (Hutech).
Lens: Samyang 14mm f2.8
Exposure: 40s. f2.8, ISO3200.
Tracking: Skywatcher Star Adventurer at 0.5x speed.
Processing: Adobe Photoshop and Lightroom.
Temperature: -12 deg C
Click image for larger version, full resolution.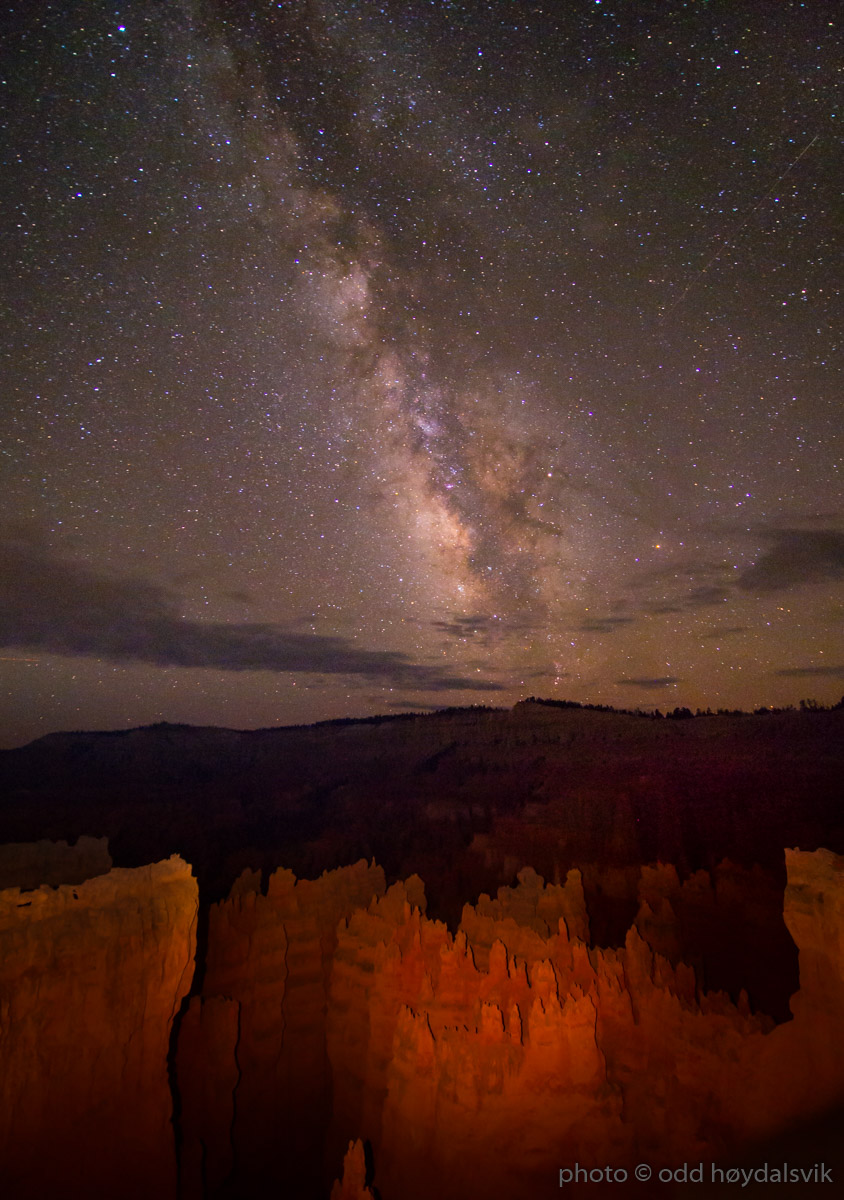 Milkyway over Bryce Canyon. The picture is taken from Sunset Point in Bryce Canyon, USA, 17.08.2017 at 22:16 UT-8
Camera: Olympus E-M1 MarkII
Lens: Laowa 7.5mm f2.0
Exposure: 30 sec, f2.0, 1600 ISO
Tracking: None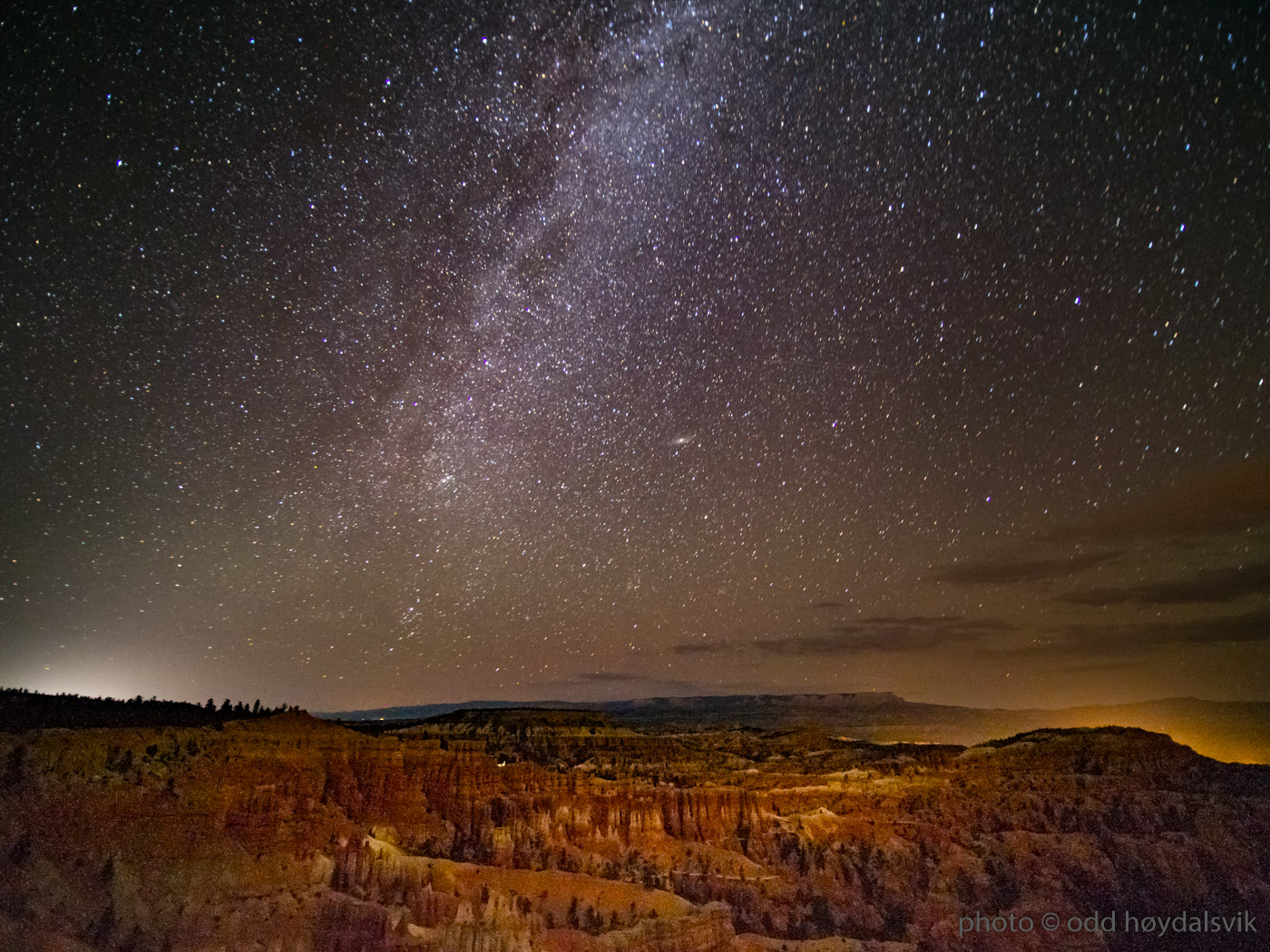 Milkyway over Bryce Canyon. Andromeda galaxy (M31)in the middle.
The picture is taken from Sunset Point in Bryce Canyon, USA, 17.08.2017 at 22:32 UT-8
Camera: Olympus E-M1 MarkII
Lens: Laowa 7.5mm f2.0
Exposure: 60 sec, f2.0, 3200 ISO
Tracking: None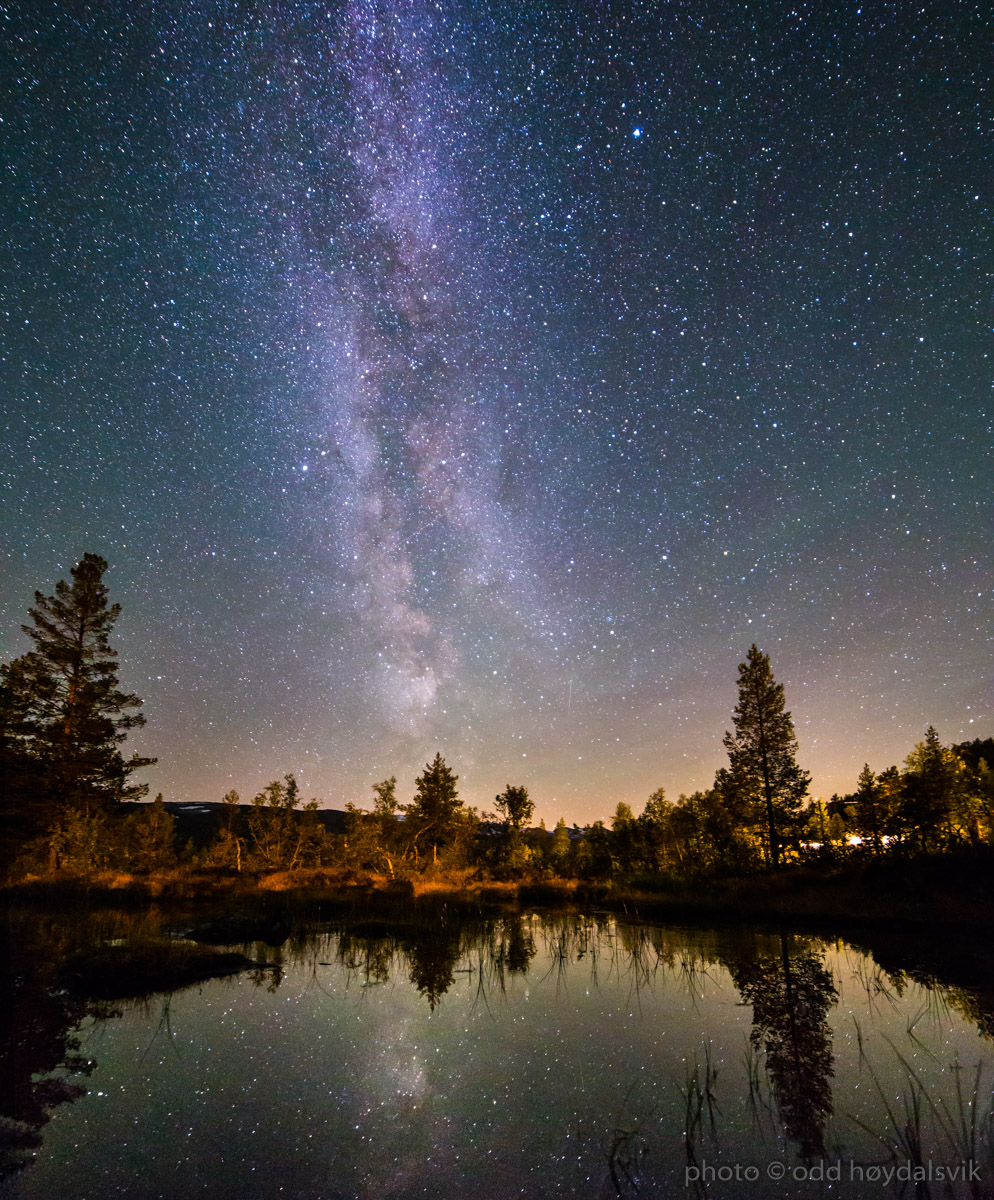 Milkyway. The picture is taken from Ljosanbotn at Mjølfjell looking southwest, Norway, 16.09.2017 at 22:46 UT+2
Camera: Canon EOS 6D
Lens: Samyang 14mm f2.8
Exposure: 45 sec, f2.8, 3200 ISO
Tracking: Skywatcher Star Adventurer at 0.5 speed (in order to keep both landscape and stars reasonably sharp)
Click image for larger version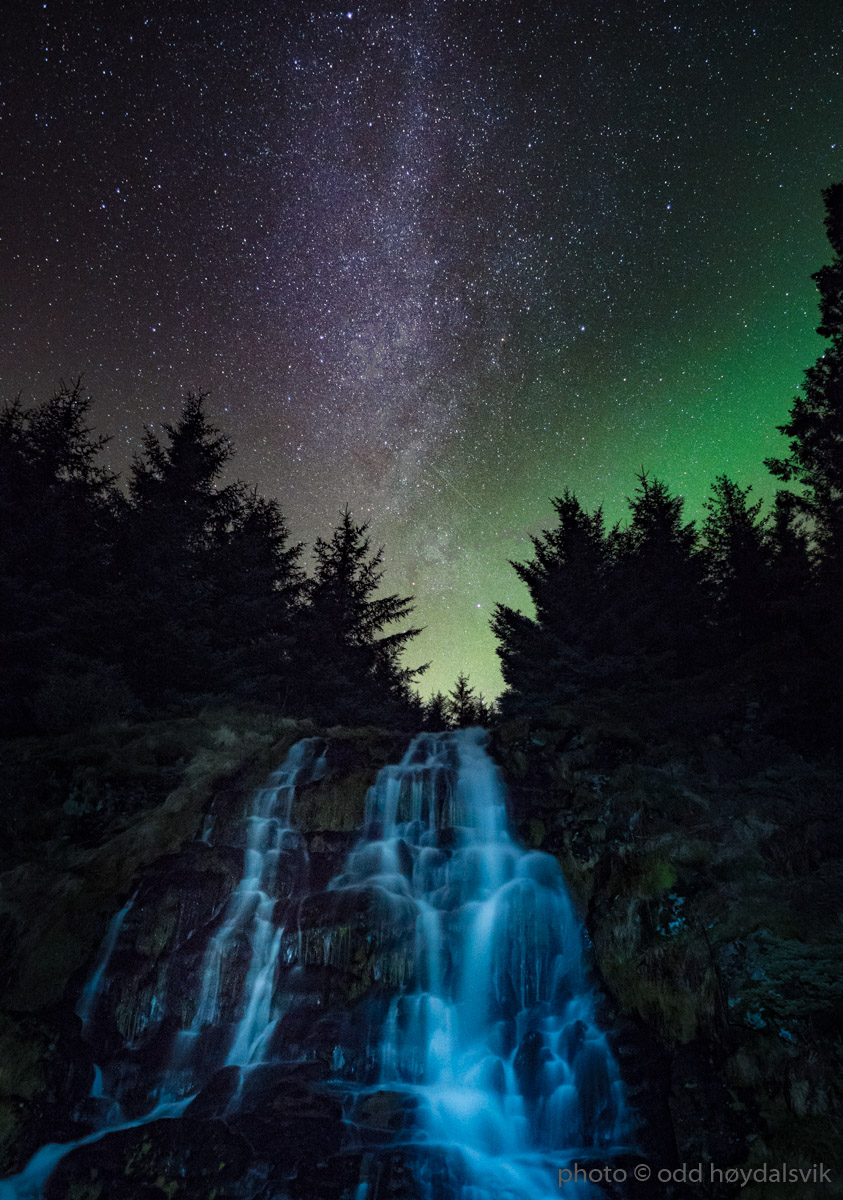 Milkyway and Aurora. The picture is taken from Osevatn at Unneland, Norway, 26.01.2017 at 19:40 UT+1
Camera: Olympus E-M5 MarkII
Lens: Olympus 12mm f2.0
Exposure: 15 sec, f2.5, 1600 ISO
Tracking: None
Click image for larger version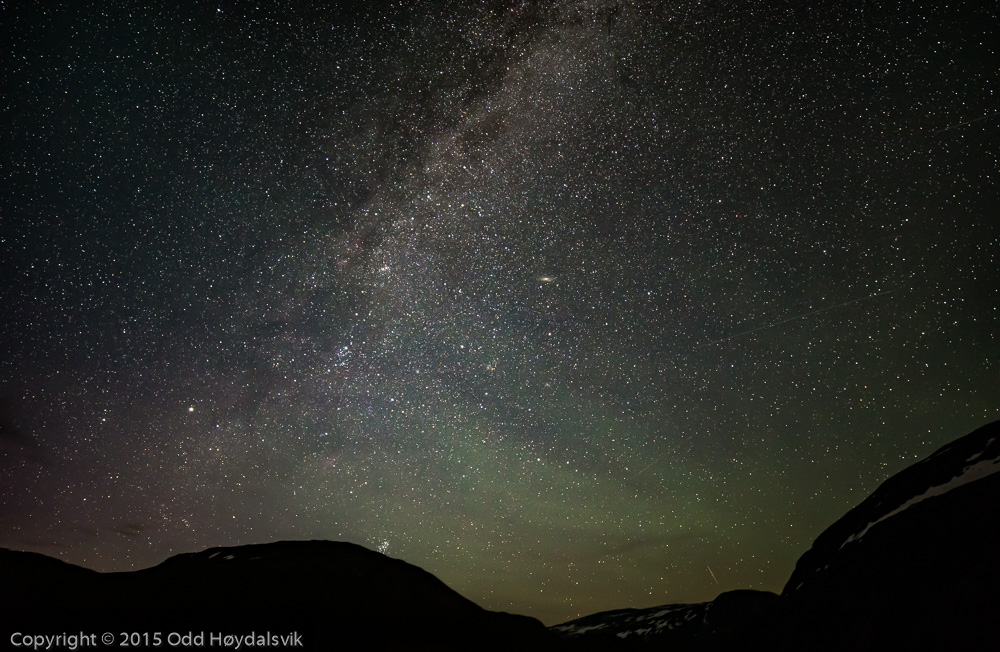 Milkyway and airglow. Andromeda galaxy (M31)in the middle. The picture is taken from Høghaug at Mjølfjell looking east, Norway, 23.08.2015 at 00:14 UT+2
Camera: Canon EOS 6D
Lens: Samyang 14mm f2.8
Exposure: 60 sec, f2.8, 1600 ISO
Tracking: Skywatcher Star Adventurer at 0.5 speed (in order to keep both landscape and stars reasonably sharp)
Click image for larger version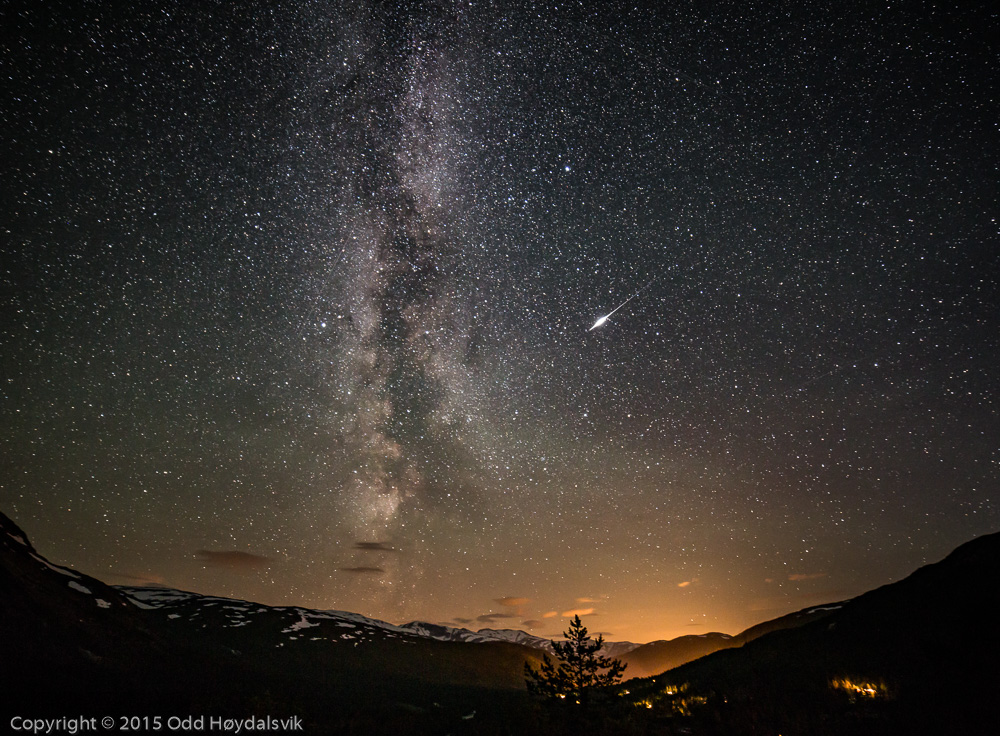 Milkyway and Iridium flare. The picture is taken from Høghaug at Mjølfjell looking west, Norway, 23.08.2015 at 00:40 UT+2
Camera: Canon EOS 6D
Lens: Samyang 14mm f2.8
Exposure: 60 sec, f2.8, 1600 ISO
Tracking: Skywatcher Star Adventurer at 0.5 speed (in order to keep both landscape and stars reasonably sharp)
Click image for larger version